Capt. Fordyce M. Rogers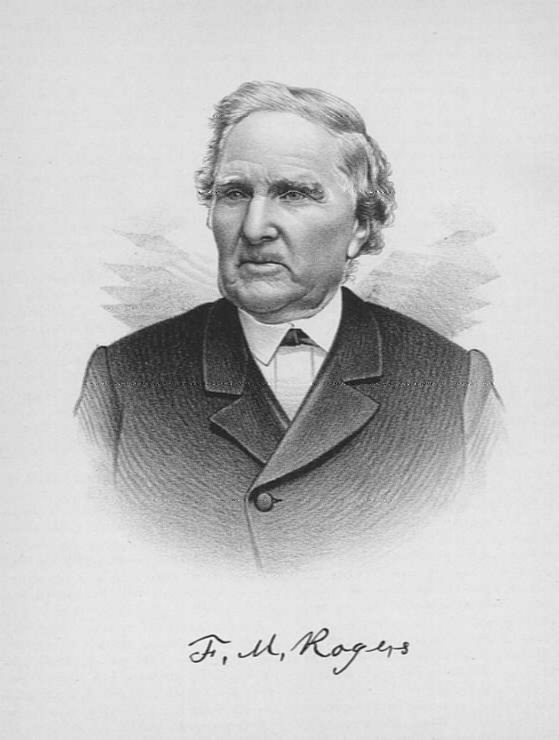 To some it is given to lead, while others must follow. Some are only fitted to tread the path marked out for them by a superior mind, while others must make for themselves their own pathway through life. The latter is the self-reliant and independent character which accomplishes much in the world, and who leaves a record which his children may look upon in future years with pride. To men of this makeup is the world indebted for its progress, for no man can labor and contrive successfully without his operations having a material bearing upon the condition of those about him. The products of his hand and brain are often wide-reaching, extending even to the people whom he may never see or know. These thoughts were involuntarily produced in reviewing the career of him with whose name we have introduced this sketch.
We find in the history of New England the Rogers family bearing no unimportant part among its various interests. Abner Rogers, the father of our subject, and a native of Massachusetts, was born in West Springfield, where he was reared to farming pursuits. During the War of 1812 he was employed by the Government in the ammunition department of the army, being stationed at Cape Vincent, N. Y. He married Miss Cynthia Flowers, also a native of West Springfield, and they emigrated to Lewis County, N. Y., in 1806, remaining there about two years. They then changed their residence to Cape Vincent, Jefferson Co., N. Y., where the father departed this life about 1824. The mother survived her husband a period of over twenty years, coming to this county and spending her last days at the home of her youngest daughter, in Ward's Grove, and passing away about 1847.
To Abner and Cynthia Rogers there were born a family of eight children, of whom Fordyce M. is next to the youngest. His birth took place in the town of Turin, Lewis Co., N. Y., July 4, 1806. He grew to manhood in Jefferson County, that State, to which his parents had removed when he was an infant. Up to the age of eighteen years he bad remained upon the farm, and then, at the death of his father, left home and began an apprenticeship at the hatter's trade in Cape Vincent, N. Y. Not finding this business to his liking, he abandoned it and returned to the more congenial pursuits of agriculture. He and his brother Frederick assumed the management of the old homestead, which they conducted a few years, then disposed of this property and took up their abode in Jo Daviess County, Ill.
About 1838 Mr. Rogers had decided to seek the Western country, but on account of the failing health of his wife, he was induced to engage in mercantile business in Dexter, Jefferson County. He found this unprofitable, and on Aug. 27, 1841, set out for Illinois with his wife and five children. He had sent his effects by schooner to Chicago, then repaired (sic) to that point with his family, and drove through from Chicago to this county with a team which Mr. Rogers had brought with him, the trip occupying a number of days.
Upon his arrival in this county Capt. Rogers settled upon a small piece of ground in what is now the southern part of Nora Township, on a claim which had been given to him by a friend. He put up a log cabin and began the improvement of his property; cultivating the soil, and by degrees adding the conveniences and embellishments naturally suggested to the industrious pioneer. The family endured their share of privation and hardships, under the disadvantages of limited means and resources, but in due time industry and economy met with their legitimate reward. After a time the Captain turned his attention to stock-raising, and about 1859 the first humble dwelling gave place to a large and commodious mansion, which is now the family residence. It is due to the departed wife and mother to say that she most bravely met the difficulties surrounding her, and was ever the cheerful encourager and supporter of her husband during those early days of toil and struggle. She departed this life May 22, 1859. She was a lady possessing all the womanly virtues, and her name is held in tender remembrance by her husband and children. Her girlhood name was Miss Chloe Fish, and she became the wife of Capt. Rogers on Feb. 17, 1835, the marriage taking place in Lime, Jefferson Co., N. Y. Mrs. Chloe Rogers was born at Booneville, Oneida Co., N. Y., Feb. 6, 1814, and this congenial union resulted in the birth of the following children. The eldest son, James H., is engaged in mercantile business at Holden, Mo.; Rodney R. died at Pike's Peak, Col., Oct. 31, 1860; Merrick A. went to that State as the employe (sic) of his brother Rodney; he had studied law in the office of Attorney Sweet, in Freeport, Ill., and upon going to the West completed his studies in Denver, where he practiced until being elected Judge of the Superior Court, which position he has filled acceptably for the last six years. William A., during the Civil War, enlisted as a Union soldier in the 92d Illinois Infantry, and served something over one year, when he was taken ill and died in the hospital at La Grange, Tenn., July 7, 1862. Ossian R. is the partner of his brother James, in Holden, Mo.; Duane A. is farming in Jewell County, Kan.; Hattie L. died May 5, 1867, at the age of eleven years.
For a period of twenty-six years Capt. Rogers held the office of Treasurer of Nora Township. He also represented it in the County Board of Supervisors, being the first man elected to this position. While a resident of New York State he volunteered in the militia as a private, and passed up through all the offices to captain, with which title he was mustered out, and by which he has since been familiarly known. In religious belief he is a Universalist, and in politics a stanch supporter of Democratic principles. He and his old friend, Capt. Stanchfield, have spent many a congenial hour together, there being between the two gentlemen a very warm attachment. He has long been recognized as one of the most useful and public-spirited citizens of this county, and has made for himself in all respects an honorable record. A man of more than ordinary intelligence, he has kept his eyes open to what was going on around him in the world, and is one with whom to converse is both pleasurable and profitable. He has witnessed the growth and development of Jo Daviess County with unabated interest, and has contributed his full quota in raising it to its present condition as one of the first communities in the Great West. His sons are men of more than ordinary intelligence, and bid fair to follow in the footsteps of their honored father. He occupies a neat and substantial residence which, with its surroundings, forms one of the most attractive homes in this region.
Capt. Rogers, on the 4th of October, 1860, contracted a second marriage with Miss Emily Graves. who was born June 18, 1817, in Washington, Ohio. The portrait of this esteemed gentleman accompanies this brief sketch of his life.
---
Source: Portrait and Biographical Album of Jo Daviess Co., IL (1889)