NICHOLAS ROTH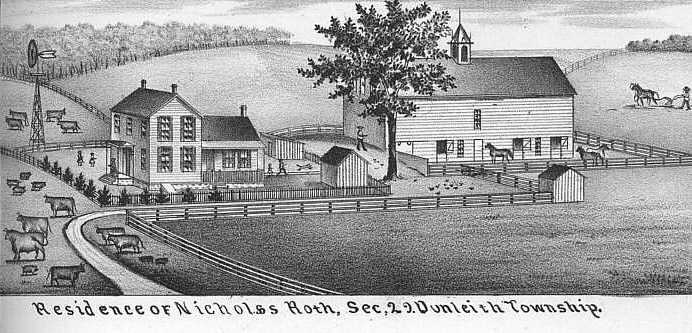 Roth residence
The Roth family of this county occupy no unimportant position among the best element of the community. The gentleman whose name appears above is a son of Valentine Roth, who, with several of his boys, is represented elsewhere in this work. He is a native of this county, and was born Jan. 29, 1858. He was reared on the old homestead, and educated in the common schools of the neighborhood. Trained at an early age to habits of industry and economy, he thus became fitted for the future battle with the world, and has entered upon a career which there is every reason to believe will in due time place him among the leading men of this section.
Eleven days before reaching his twenty-second year our subject was united in marriage with Miss Catherine, daughter of Valentine and Margaret (Owery) Digmann, the wedding taking place at the home of the bride, in Wisconsin, Jan. 18, 1880. The parents of Mrs. Roth were natives of Germany, and emigrated to the United States in May, 1852, making the voyage on a German sailing-vessel - the "Philamena" - and landing in New York City after being on the ocean seven weeks and one day. Making their way directly westward they located at Jamestown, Wis., where Mrs. Roth and the other children of the family were born. The latter were: Christina, now Mrs. Peter Kunkle, of Le Mars, Iowa; Harmon, of Jamestown, Wis.; Gertrude (Mrs. Joseph Wiederhold) also of that place; Joseph, who died at he age of twelve years. The husband and father departed this life at the homestead in Jamestown, in 1879, aged seventy-three years. The mother makes her home with her daughter Catherine.
The farm belonging to our subject embraces 280 acres of valuable land, and occupies a portion of sections 28 and 29. When he purchased this, which was in the fall of 1880, the only improvement on it was an old log-house. He has now a fine, large frame dwelling, with a barn 36x80 feet, corn-cribs, and all the other necessary out-buildings. This place is well illustrated by an accompanying view. He engages considerably in stock-raising, keeping good grades of horses and cattle, and making a specialty of Poland-China swine. He and his estimable wife are the parents of five children, namely: John Valentine, Mary Catherine, Maggie Rosa, George Joseph, and Ellen Gertrude. The family are all members of the Catholic Church, to which the Digmanns, parents and children, also belong.
The mother of Mrs. Roth was the second wife of Mr. Digmann, and he by his first marriage was the father of two children: Anton H., now a resident of Dyersville, Iowa, and Mary (Mrs. Charles Myers) living at Elizabeth, this county.
---
Source: Portrait and Biographical Album of Jo Daviess Co., IL