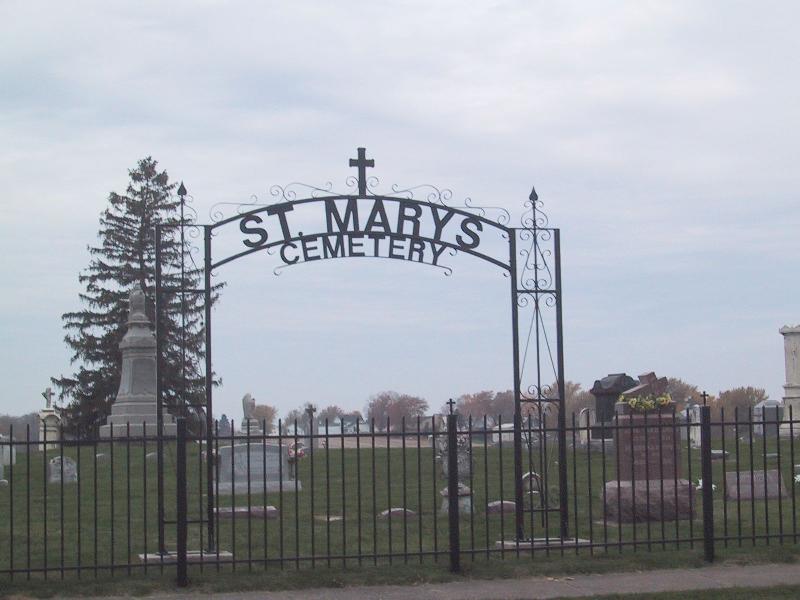 This cemetery is located on Gear Street on the east side of the City, adjacent to the Greenwood Cemetery. The tombstones were read in 1979.
The cemetery as published by Robert Hansen had several lists.
The main list is the transcription of the tombstones as done in 1979 which follows the footsteps of the people copying the stones. The published list was matched to the handwritten sheets prepared by the transcribers. All extra information has been put in brackets which appears to be part of the Sexton@rsquo;s Records. Much of this indicates where the person died. At that time there were hospitals in Dubuque, Iowa, and Hazel Green and Cuba City, Wisconsin.
Also included from the Sexton Record was the Block and Lot number where the tombstone was located. Mr. Hansen's published transcription has been reorganized into the Block and Lot numbers in order to incorporate the other lists into the proper sequence.
List 2: Burials of veterans as found in the Illinois Veterans Commission List of 1956.
List 3: Deaths in the Sexton's Records occurring from 1941 to 1963 for which no tombstone exists. Each of these is so indicated as [no tombstone]. List 4: Is from a survey of parishioners in 1950 about the burials in their cemetery lots that had no tombstones. These also are indicated as [no tombstone].
List 5: Those with no tombstones in a book recording payments and grave digging information. These also are indicated as [no tombstone].
List 6: A miscellaneous list that had no block and lot location and could not be incorporated. This list is given at the end of the cemetery listing.
The cemetery is divided into seven areas:

Block 5 is the north most section bordering Gear Street and the North Gate Road.
Block 6 in on the other side of the North Gate Road also bordering Gear Street.
Block 1 lies between Block 6 and the South Gate Road. There is no division between Block 1 and Block 6.
Block 2 is south of the South Gate Road and bordering Gear Street.
Block 3 is west of Plat 1 west of the dividing road.
Block 4 is west of Plat 2 and west of the dividing road
Unconsecrated Ground is west of Plat 1 and Plat 2.
---
Section 1 Lot 1
Harle

Clyde Nicholas Dec 26, 1915-Aug 15, 1958, Ill Sfc US Army WWII BSM-PH [d Iowa City, IA]

Rayhorn


Sharon L[orraine], d. 1958 [d Aug 3 at Hazel Green, WI] Ganshirt

Alois [no tombstone]

Nack


Mary Kathleen, infant, d Sept 19, 1916 [no tombstone]
Louis A. Sr., d October 1981 [no tombstone]
Louis A. Jr. [no tombstone]

Section 1 Lot 2

Bussan


Andrew Z., 1891-1965
Julia A., wife, 1887-1965

Bussan


Vincent [grave in walkway, no tombstone]

Buss


Tommy, June 2, 1959-Apr 22, 1960 [Thomas Leo, d at Galena]
Mary Elizabeth, July 6, 1960-July 7, 1960 [d/o Wallace, d Dubuque, IA]

Lieberman


Janice RUNDE, 1936-1973

Runde


Nicholas, Oct 9, 1940-Apr 24, 1962, Ill A1C 1961 Comm GPAF

Joel Francis, Aug 17, 1945-Apr 23, 1962

Schuller


Rose F., wife, 1899-[no date]
Fred P., 1895-1961 [bur May 22 at Hazel Green, WI]

Callahan


George H., 1889-1971
Christine A., 1895-1977 [bur Oct 27]

Section 1 Lot 3

Heins


Leo A., 1905-1968
Alice M., wife, 1911-[no date]

Temperly


Irvin J., 1904-[no date]
Adele K., 1909-[no date]
George T., 1909-1969
Margaret M., 1914-[no date]

Alma


Sister Mary, SSND, d. Feb 9, 1936

Section 1 Lot 4

Heim


Clarence, 1912-[no date]
Irene S., wife, 1917-1976
Josephine, infant [no dates]

Marcella


[Irene, d June 21, 1948 at East Galena]

Salwolke


William J., 1896-1954 [ d June 8 at Galena]
Valeria M., wife, 1898-1976

Seck


Lincoln A., Apr 3, 1889-Oct 21, 1954
Mary E., May 16, 1889-June 25, 1965

White


Merle R., 1918-[no date]

Magenheimer


Alvan L., Oct 22, 1916-July 12, 1944 [d at Freeport, IL]

Heim


Frank A., Feb 12, 1885-Aug 5, 1945 [d at Dubuque, IA]
Bertha J[osephine], wife, Dec 31, 1888-Feb 19, 1944 [d at Guilford Township]

Heim


Harvey, bur May 29, 1959 [no tombstone]
Mrs. Harvey [no tombstone]
Clarence, bur May 25, 1959 [no tombstone]

Burke


Edward M., 1900-1976
Anna M., wife, 1899-[no date] [bur Dec. 27, 1978]
James Edward, son, Apr 25, 1931-June 18, 1953, Ill Pfc 802 Engineer AVN BN Korea. [d Kackakawa, Honshus Japan]

Section 1 Lot 5

O'Neill


Edmund M., 1896-1963
Gladys E., 1896-[no date]

Westemeier


Henry E., Oct 1889-Dec 24, 1963

Berning


Michelle Marie, d/o Earl & Rosalia, d. Nov 18, 1963

Knobbe


Richard J., Aug 24, 1931-May 12, 1960, Ill A1C US Air Force [d Seville, Spain]

Bauer


Joseph F., 1899-1972
Mabel I., wife, 1899-1962 [d May 23 at Hazel Green, WI]
James [no tombstone]

Ganshirt


William, bur Dec 4, 1981 [no tombstone]

Section 1 Lot 6

Westemeier


Albert O., 1903-1974
Veronica A., wife, 1910-[no date]

Appuhn


Katherine E., Apr 28, 1876-Sept 29, 1961
Henry, July 4, 1872-May 29, 1967
Lucille M., July 17, 1897-[no date]
Kathleen I., Oct 15, 1899-June 28, 1977
Alberta M., May 25, 1902-[no date]

Bailey


Mary Ann, 1867-1962 [d July 11 at Galena]

Section 1 Lot 7

Werner


John [Sr.], 1881 - [no date]
Mary R[ose], 1883 - 1960 [d Feb 8 at Dubuque]

Fischer


Donald E., 1911 [ no date]
Dorothy H., 1911 - [no date]

Bussan


Edward J., 1902-1971
Mary E., wife, 1900-1968

Bussan


Robert J., 1923-1966, Pfc US Army, WWII

Section 1 Lot 8

Heid


August, 1866 - 1951 [d July 8 at Charlottsville, VA]

Heim


Louis P[hillip], 1886 - 1956 [d Mar 19 at Galena]
Anna E., 1884 - 1966

Houy


Francis J., Mar 15, 1909 - Feb 15, 1953, Ill CPL 2532 Base Unit AAF, WWII

Glasker


Bernard J., 1890 -1959 [d May 23 at Galena]
Agnes L., 1891 - 1967

Schonhoff


Frank B., 1890-1964
Louisa, w/o Frank, 1899-1972

Speaker


Joseph B., 1892-1965
Laura K., w/o Joseph, 1900-[no date]

Section 1 Lot 9

Bailey


Alfred L. Pete, 1906-1968
Marie E., 1906 - 1975

Geiger


Wallace C[harles], Mar 9, 1876 - Sept 25, 1950, Ill 1st Lt 22 BN US Guards, WWI [d Galena]
Pauline TRIEB ["Polly], Apr 2, 1883 - Mar 11, 1956 [d Dubuque]

Merriam


John E., July 31, 1877 - Oct 25, 1967
Bertha TRIEB, Nov 22, 1874 - Nov 18, 1955 [d Floyd, IA]

Korte


Oscar B., 1901 - 1964
Viola A., 1905 - [no date]

Bailey


Ambrose Arthur, Sept 22, 1900 - Dec 26, 1953
Virginia "Regina", Mar 28, 1898 - June 4, 1944

Section 1 Lot 10

Foley


David C[harles], Aug 30, 1953-Aug 31, 1953 [d Hazel Green, WI] Foley

John [no tombstone]

Section 1 Lot 11

Uhlrich
Louis J., Nov 17, 1873-July 30, 1945 [d Dubuque] Maggie, w/o Louis, Jan 14, 1882-Jan 14, 1950 [d Savanna, IL]

Medley
Joseph, Mar 23, 1869-Apr 24, 1938 [d Hazel Green, WI]

Korte
Henry B., 1875-1938 [bur Apr 18] Mary E., w/o Henry, 1878-1971

Section 1 Lot 12

Willy


Edward P., 1882-1955
Laura M. [EGANHAUSE], w/o Edward, 1889-1946 [b Jan 6, d Mar 22]

Glasker


Frank V., 1864-1939 [bur Apr 19 at Galena]
Mary A., w/o Frank, 1866-1938 [bur Apr 29 at Galena]

Bautsch


Frank, 1838-1916 [disinterred Sept 21, 1946 to Galena]
Mary, 1857-1946 [d Feb 4 at Dubuque]

Guigow


Anna BAUTSCH & Baby, 1884-1920 [disinterred to Galena Sept 21, 1946]

Bautsch


Herman, M., s/o F & M, 1892-1893 [disinterred to Galena Sept 21, 1946]

Bautsch


Cecelia, 1888-1972

Collins


Elmer L., 1912-[no date]
Elizabeth C. "Dolly, w/o Elmer, 1912-1974 [bur Jan 1975]
Thomas L[awrence], d. Mar 26, 1938
Cecelia Ann, 1941-[no date]

Mensen


Joe, d Feb 9, 1960 [no tombstone]
Emma, d Feb 18, 1961 [no tombstone]

Section 1 Lot 13

Knautz


Viola M., Nov 5, 1904-July 11, 1969
Julius H. Jr., Sept 11, 1907

Knautz


Ronald W[ayne], Mar 2, 1936-May 23, 1954
Phyllis M[ary], June 30, 1938-Aug 25, 1947

Hornby


William, Aug 13, 1865-Jan 6, 1951 [d Galena]
[Mary] Josephine, Oct 7, 1867-Apr 29, 1947 [d East Galena]
Edward, July 19, 1895-Oct 12, 1964
Adelle A., Dec 4, 1897- [no date]

Section 1 Lot 14

Daters


Joseph J., 1877-1940
Anna K., w/o Joseph, 1878-1954 [d June 21 at Aurora, IL]

Sincock


William T., 1875-1958 [d Feb 13]
Mary, w/o William, 1877-1963

Bauer


John M., 1887-1939
Catherine, 1894-1973

Bauer


Lloyd John, May 4, 1914-Oct 13, 1964, Illinois S.2 USNR WWII

Mastin


James Dean, Sept 15, 1966-Dec 3, 1966

Section 1 Lot 15

Budden


George M. [Sr.], Dec 29, 1874-Sept 30, 1952, Pvt 5 Ill Infantry Sp Am War
Katherine M., 1877-1938

Shuey


Richard [Glenn], s/o Glen & Edith, Dec 25, 1937-Dec 28, 1937 [at Galena]

Shuey


Christine, d/o David & Sharon, 1966-1967

       Marsden


Benjamin, 1859-1945 [d Dec 29 at Dubuque]
Magdalena, w/o Ben, 1866-1944 [bur Feb 4]

Engels


Henry J., 1883-1937 [bur July 29]
Celia M[ary], wife, 1889-1957 [d July 24 at Galena]
Joseph [Alfred], son, 1923-1938 [d Apr 24]

Smith


Herman J., 1881-1966
Anna M., wife, 1882-1938 [d Feb 10 at Rawlins Twp.]

Manz


Robert Charles, infant in John Manz lot [no tombstone]

Section 1 Lot 16

Foecking


William B., May 4, 1896-[no date]
Margaret C., Dec 10, 1895-June 25, 1967

Hillard


Suzanne Lee, "Our Darling", Mar 17, 1948-Aug 8, 1958 [d Yokahama, Japan]

Klawitter


Abby Jo, d/o Chas & Margaret, Aug 27, 1956-Feb 13, 1957 [d Orangeville, IL]

Foecking


Mary K[atherine], d/o Wm & Margaret, Mar 29, 1937-Apr 2, 1937 [d Dubuque]

Huilman


John, 1861-1948 [d Dec 13 at Galena]
Mary, 1864-1937 [d Feb 19 at West Galena Twp.]

Section 1 Lot 17

Knoebber


Frank H. Sr., 1852-1936
Mary, wife, 1855-1944 [d Jan 11 at Galena]
Frank H. Jr., 1887-1945 [d June 3 at East Moline, IL]
Harry A., d Feb 23, 1978 [no tombstone]

Section 1 Lot 18

Pearson


Raymond C. d. Jan 24, 1958 [d at Evanston, IL]
Catherine D., wife, d. Feb 9, 1969
Virginia, dau, d. Apr 13, 1924

Stodden


Adolph R., 1876-1955 [d Mar 2 at Cuba City, WI]
Cora R., wife, 1882-1965
Ronald K., Jan 12, 1926-June 29, 1946, Motor Mach Mate 3 Cl US Coast Guard

Hellstern


Mrs. Clara [no tombstone]

Section 1 Lot 19

Monroe


Deborah Ann, Nov 11, 1954-Apr 14, 1968

McCarron


Howard E., 1890-1970
Ethel EULBERG, 1892-[no date]

Anderson


Louisa, Apr 14, 1860-June 5, 1914

Schmidt


Josephine EBERHARDT, d. Aug 2, 1927

Sanderson


William A., 1891-1937 [bur Feb 26]

Foecking


Herbert J., Son, 1911-1935 [bur July 14]
John B., Father, 1887-1958 [d Dec 1 at Cuba City, WI]
Amelia C., Mother, 1886-1961 [d Oct 5 at Dubuque]

Feldermann


David Arnold, s/o Arnold & Evelyn, Dec 2-Dec 5, 1952 [d Dubuque]

Hahn


Alois, 1867-1955 [d Oct 19 at Galena]
Mary, wife, 1873 - 1936 [d June 8 at Dubuque]
Ottiale B. "Tillie", d/o Alois & Mary, 1892-1974

Section 1 Lot 20

Heit


Henry L., d. Jan 26, 1894
Hazel K., wife, d. Aug 17, 1894
Julia [no tombstone]

Heit


Henry, bur Dec 9, 1980 [no tombstone]

Polzin


Anna [no tombstone]

[Faber


Susan Magdelan, d Jan 29, 1903 of Tuberculosis]

[Heilgert


Otto Julius, d Apr 24, 1903 of Tuberculosis]

Kohlbauer


Frank J., 1863-1936 [d Feb 27 at Galena]
Nora A., 1875-1960 [d Jan 25 at Chicago Heights, IL]

[Kohlbauer


Joseph William, d Apr 29, 1903 of acute gastritus]

[Kohlbauer


Thomas, d May 9, 1902 of spasms]

Karberg


Ernest F., 1896-1960 [Jan 20 at Galena]
Alma M., wife, 1903-[no date]

Section 1 Lot 21

Bussan


Caroline J., 1880-1962 [d May 7 at Dubuque]
William J., 1876-1928 [bur Dec 24]
Albertus J., 1900-1974

Foecking


Anna L., wife, 1903-[no date]
Tony G., 1898-1974

Section 1 Lot 22

Miller


Henry Jr., 1902-1935

Tranel


Agnes, d May 2, 1979 [no tombstone]

Bussan


Marcella Elizabeth, d/o Francis B. & Elizabeth C., Oct 4, 1915-May 20, 1935
Francis B[ernard], 1879-1963, [d Feb 4 at Hazel Green, WI]

Elizabeth C., 1885-1972 Fleege

Eldon J., 1912-1969

Brown


Albert N. [Sr.], 1878-1968
Caroline J., Wife, 1889-1931

Eulberg


Anna F., wife, 1863-1935 [bur Dec]
Peter, 1859-1932 [bur June]
Arthur J., Son, 1889-1919 [d Jan 13, Pvt Co A 48 Inf, WWI]

[Hart


Mary Agnes, d/o Michael & Bridget (Reilly) Hart Aug 16, 1854 - July 6, 1939]

[Kelly


Francis M., s/o John P. & Elizabeth (Ledwith) Kelly, Aug 1, 1878 - Dec 10, 1939, 61y 4m 9d]

Section 1 Lot 23

Engle


Theresea, Mar 9, 1876 - Mar 10, 1939, 63y 1d, d/o Victor & Sophia GESSNER Engle.

Bussan


Harold Henry, Aug 13, 1915-Aug 10, 1959, Ill Tec5 2502 Area Sve Unit WWII, st. St. Francis Hospital, Peoria, IL]

Oldenburg


Roger A[lbert], d Apr 21, 1945

Oldenburg


Francis, purchased 5 graves

Yarg


Lucile [Rachel] MURPHY, 1886-1961 [d Jun 7 at Hazel Green]
Wilbur Andrew, 1888-1940 [d May 29, 132 Inf, 33 Div, WWI]
Philip John, 1890-1921 [bur Jan 31]
Michael, h/o Susan, 1863-1923 [bur Nov]
Susan, w/o Michl, 1870-1951 [d Jan 23 at Galena]

Allen


Rosetta YARG, w/o DA, 1900-[no date]

Deloss


Albertis, 1899-[no date]

Tranel


Wilfred, 1910-1963

Section 1 Lot 24

Hasken


Leo W., 1918-1967
Vivian T., wife, 1921-[no date]

Hasken


Joseph H. [Sr.], 1867-1940 [bur Apr 29]
Catherine S., wife, 1877-1943 [d May 10 at Vinegar Hill Township]
Clarence W., s/o J & K, d. 6m [bur Feb 1922]

Fiedler


Robert William, s/o Wm & Eliz, d. 1939, 3w [d May 29 at Dubuque]

Ostendorf


Mae HASKEN, 1899-1966

Strohmeyer


M[ary] Louise, w/o Henry H., 1872-1956 [d Mar 21 at Rockford, IL]
Henry H[erman], 1868-1937 [d Nov 9 at Galena]
Anna L[ouise], d/o HH & ML, 1904-1918 [bur Nov 21]

Hasken


Henry [Sr.], 1865-1941 [bur July]
Elizabeth, wife, 1870-1956 [d Nov 21 at Hazel Green, WI]

Section 1 Lot 25

Hess


Frank, 1873-1967
Lena, wife, 1877-1960 [d Oct 22 at Galena]

Oldenburg


Magdalena, Mar 1, 1847-June 26, 1914
Albert R., Nov 16, 1909-Oct 27, 1924
Albert, Dec 15, 1883-Nov 8, 1939

Hickie


Mabel M. HASKEN, w/o Eugene H., Feb 28, 1905-Sept 4, 1976
Eugene H., Apr 1, 1897-Oct 30, 1966, IOWA SC4 USNRF WWI

Wieters


Lillian HICKIE, 1901-1969

Hickie


Thomas J., 1890-1940

Hickie


Robert Henry, bur May 11, 1923 [no tombstone]

Hickie


Rosella, but about 1933 [no tombstone]

Section 1 Lot 26

Marsden


Peter Joseph, 1884-1957 [d Jan 2]
Mary Alys, 1885-1961 [d Oct 10 at Grand Rapids, MI]

Leifker


William H., 1882-1960 [d Jan 10 at Galena]
Rose A[nna], wife, 1892-1959 [d Feb 13 at Galena]

Marsden


Lucy E., 1886-1974

Orby


S[tephan], 1882-1956 [d Jan 30 at Hazel Green]
Harry M., 1890-1927 [bur Aug 2]
Elizabeth R., 1860-1933 [bur Aug 3]

Section 1 Lot 27

Altenberg


Loretta BAILEY, 1892-1934 [bur June 20]

Jahncke


Frank W., 1897-1958 [d May 18 at Cuba City, WI]
Veronica C., Wife, 1898-[no date]

Appuhn


Helmer H., 1889-[no date]
Irene H., Wife, 1891-[no date]

Frantzen


William, bur July 28, 1919 [no tombstone]
Lena, bur Oct 28, 1922 [no tombstone]

Section 1 Lot 28

Oldenburg


Henry J., 1871-1942 [d Sept 4 at Rawlins Township]
Othilda, Wife, 1881-1971
Vincent Elmer, Son, 1907-1946 [d Aug 9 at Rawlins Township]