THE
MICHAEL HILEMAN MEMOIRS
1820 - 1915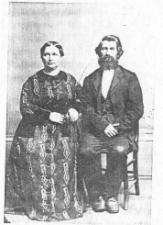 Michael Hileman, Jr., and wife Amanda




Harold D. Hileman

November, 1999

Copyright ©1999 by Harold D. Hileman

Permission to reprint the "The Memoirs of Michael Hileman Jr." is granted unless specifically stated otherwise, PROVIDED: (1) the reprint is used for non-commercial, educational purposes; and (2) a copy of this notice appears at the end of the reprint.

TABLE OF CONTENTS
ACKNOWLEDGMENTS
1 -
THE EARLY YEARS
2 -
PREPARING TO TEACH
3 -
MARRIAGE AND THE JOURNEY TO ILLINOIS
4 -
PIKES PEAK GOLD FEVER
5 -
WINDS OF WAR
6 -
WAR
7 -
PRISON
8 -
ANDERSONVILLE
9 -
ESCAPE
10 -
CAPTURE
11 -
RETURN TO ANDERSONVILLE
12 -
CHARLESTON
13 -
FLORENCE PRISON and the JOURNEY HOME
14 -
HOME AT LAST
15 -
WAR AGAIN - THE BATTLE OF NASHVILLE
16 -
WARS END
17 -
MUSTER OUT
18 -
HOME SWEET HOME: WARREN
19 -
SOUTH DAKOTA - 1882
20 -
DAKOTA SETTLERS
21 -
DAKOTA DAYS
22 -
IOWA
I want to offer a special note of appreciation to William R. Hileman. For without his foresight to audibly record the original manuscript, and without his deep concern that Michael's memoirs be made available to all present and future Hileman descendants, as well as all others, it would not have been possible to produce these wonderful pages - all would have been lost.
Again, "thanks" to Bill Hileman; for his untiring proofreading and editing and to Deena Knotoff; for her transcription assistance. I offer a very special warm offer of gratitude to my wife Kathleen, who has given her unwavering support, and to my son seven year old son Dylan, who has patiently waited till daddy got off the computer to excitedly ask - "what else did my Great Great Great Grandfather do?".
And finally, especially to Michael Hileman, who while in the closing of his life, thought about how he could convey the history, and the lessons of his life, to those who were yet to live. For without this caring act, I would have never known my 2nd Great Grandfather, nor would have my son Dylan.... and someday, I hope, my Grandchildren.
Ed: 14 Nov. 1999