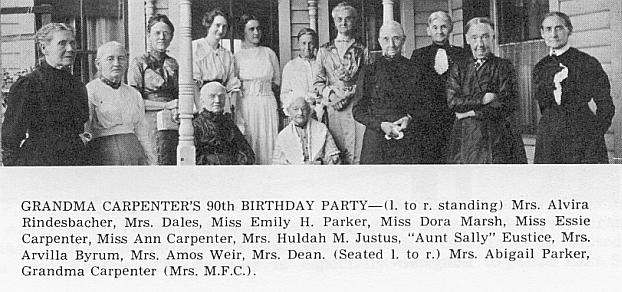 Grandma Carpenter was the former Miss Susan Blake. She was born in NewYork. Her husband's full name was Marvin Freeman Carpenter. This picturecame from a commemorative book of the Stockton Jubilee in 1965. In 1887,the Minnesota and Northwestern Railroad built a railroad depot on a sitethat was once part of the Carpenter farm. Soon after, Mr. Carpentersubdivided a portion of the farm situated at the location that was to becomethe corner Main and Front Streets in downtown Stockton. Over the nextfifteen years, he built many of the brick buildings that were still standingat the time of the Jubilee. At least some are probably still standingtoday.
Grandma Carpenter's daughter, Hettie Medora Carpenter, married, JamesLincoln Tyrrell, a second cousin of my great-grandmother, Mrs. Frank Eugene Justus and the former Miss Phoebe Abigail Tyrrell, daughter of Arthur andEliza Jane (Partridge) Tyrrell. Dora, as Hettie was known, was born in1855. Because of this, I would place this picture circa 1910-1915.
I suspect that Mrs. Abigail Parker, seated next to Grandma, is Mrs. BenjaminFranklin Parker and Miss Emily H. (Hepzibah) Parker is her daughter. Abigail was the former Miss Abigail Cram Tyrrell, daughter of Samuel andAnna H. (Cram) Tyrrell. Samuel and Anna were mygreat-great-great-grandparents.
Huldah M. Justus was Mrs. George J. Justus, my great-great-grandmother. She was the former Huldah MalissaByrum, daughter of Jeptha and Hannah (Beardsley) Byrum. Arvilla Byrum isprobably a sister-in-law, a cousin or the wife of a cousin. I don't haveany information on her.
If I had to make a guess, I would say that the three girls between Emily andHuldah are Grandma Carpenter's granddaughters.
---
Picture and commentary contributed by:
Ray W. Justus
1331 West Folley Street
Chandler, AZ 85224-7511
(602) 963-4811

Return to Photo Index